RECIPE:
SERVES: 4
PREP: 10 minutes
COOK: 25 minutes
INGREDIENTS:
1 bunch fresh asparagus spears, trimmed

2 tablespoons olive oil

1 teaspoon garlic powder

½ teaspoon onion powder

salt and black pepper, to taste
DIRECTIONS:
Preheat oven to 400°F. On a baking sheet, toss asparagus with olive oil, minced garlic, salt and black pepper.

Roast for 20-25 minutes. Serve and Enjoy!
Ahhh, yummm. Do you smell that? Well, you will, once you make this recipe. This garlicky oniony peppery smell is the smell of Oven Roasted Asparagus. This Oven Roasted Asparagus recipe makes for the most perfect side dish. Pair them with any dish of your choosing! What I love about this asparagus recipe is that it can be used for either thick or thin asparagus. They will cook the same way.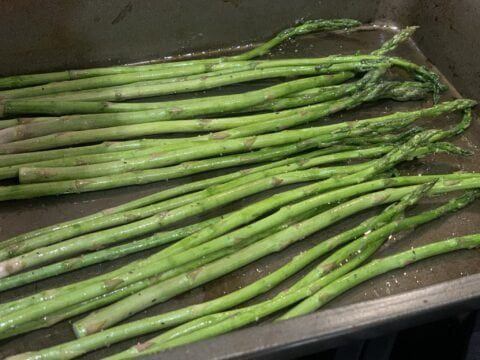 To get started, make sure that you wash and trim your asparagus. Be sure to trim the bottom white part off of the asparagus. The white part is hard and not fun to eat. And, if you forget to trim it before cooking then you can always trim it off at the end. If you would like, you can peel off the outer skin of the asparagus with a vegetable peeler. I usually choose to opt-out of doing that. It is more work and I don't mind the outer skin's texture. 
All you'll need for this recipe is a little olive oil, salt, black pepper, some garlic powder, and onion powder. Only use onion powder if you like it. It is certainly an acquired taste. So, if you're cooking for young children who do not like onion flavor, then don't include it. The roasted asparagus will still taste delicious with just the other ingredients! You might ask, "Do I have to season my asparagus?" Well, asparagus has a naturally bitter taste to it. That is why it is best to always season it in some way. Without any seasoning, you will for sure get a taste of that bitterness.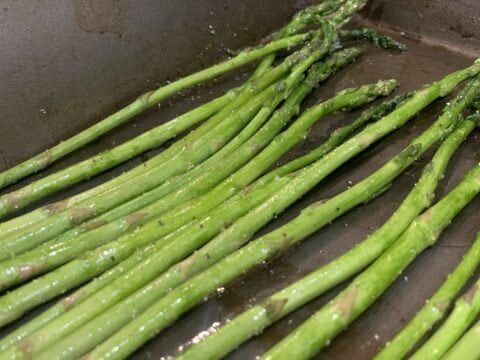 I remember as a child. The first time I tasted asparagus, I was probably about seven and I detested the flavor. It wasn't until I started making it myself, (sorry, Mom and Dad!) that I enjoyed eating it. I learned the right way to season and cook it. So, make sure that you cook it at the right temperature. I like to cook my asparagus at 400°F for about 20 to 25 minutes. After a lot of trial and error, I found that temperature and time to be the perfect combination. It is great because the asparagus does not get too soggy, nor is it undercooked. It still has a nice crunch to it. This makes it easy to swallow and digest. 
This is one of my favorite vegetables to make and I love how hands-off it truly is! The clean-up is truly easy as well! So, if you do not want to have a lot of dishes to wash, then make this. You can toss the asparagus with the olive oil and seasonings on the sheet pan and pop it right into the oven. That sounds easy enough, right?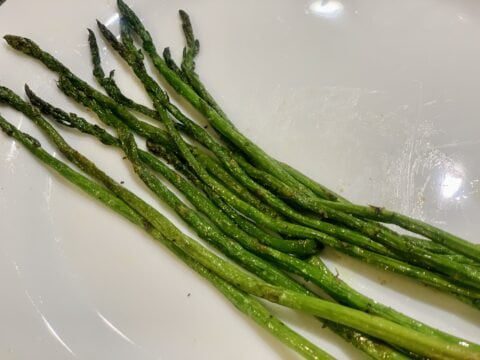 The measurements that I have given you here work perfectly for a bunch of either thin asparagus or thick asparagus. I hope that this recipe can please your palate. As you can see, simple recipes can be some of the best-tasting recipes. So if you're looking to incorporate more vegetables in your diet or if you just are already an asparagus lover, then try this one! Hopefully, this pleases your palate, and you continue to make this recipe for years to come, Enjoy!!