The other day I was craving a pizza. I thought to myself "Ooo I could order from my favorite spot in town" and "Hmm i could make my own dough, but I don't feel like waiting." I even thought, "How about I run to Trader Joe's and buy their premade dough!" They have a plain one, wheat one and a garlic and herb one. They're all delicious! Well, by this time it was already past 8:45 pm. There was no way I would make it to Trader Joe's in time before their 9pm close. Especially not in Los Angeles! So, I rummaged through my fridge to see if I had anything to satisfy my pizza pie craving.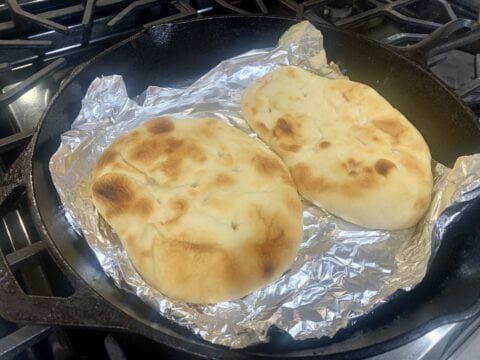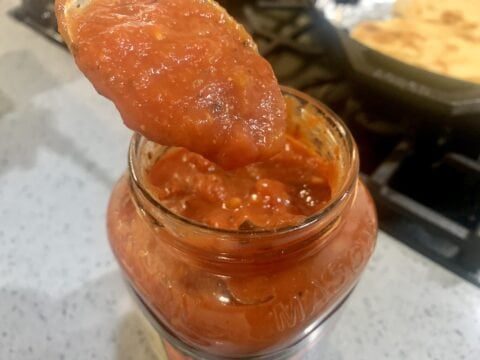 I had seen a TikTok where a woman made "pizza" using a soft shell tortilla, pizza sauce and cheese. I remembered that I still had a few pieces of Naan in the fridge. I had used a couple of pieces in the weeks prior to pair with a delicious Chickpea Masala dish. If you aren't familiar with Naan, it is a baked flatbread that can be found in a lot of Indian and Caribbean cuisines. Fortunately, I had a jar of marinara sauce and some shredded mozzarella cheese. I knew I was in business. Three ingredients was all it took!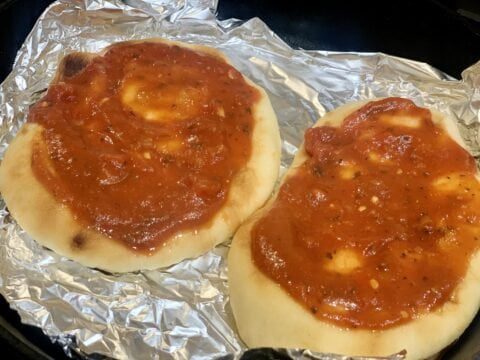 Recipe
Serves: 2
Prep: 3 minutes
Cook: 12 minutes
Total: 15 minutes
Ingredients:
2 pieces Naan

1 cup marinara sauce

1 cup shredded mozzarella cheese

Toppings of choice
Directions:
Preheat oven to 400°F. 

Place naan pieces on a baking sheet and assemble with equal parts sauce, cheese and any toppings you choose.

Bake for 10-15 minutes or until cheese is completely melted.

Remove from oven and allow to rest for 5 minutes before serving. Enjoy!
Notes: Other sauces may be used in place of marinara sauce.
Preheat your oven to 400°F and assemble your pizza as you normally would. Naan goes on the baking sheet first, then spread on your sauce, and then add as much cheese as you'd like. I just did a regular cheese sprinkle. Enough to cover the entirety of the sauce spread, but not quite enough that I would make a gooey mess. I don't like when my pizza is too cheesy! Don't forget to add any desired toppings. I chose to keep my pizza plain that night. Yes. I was too tired to even think about chopping up any fresh veggies. Finally, bake the pizzas for 10-15 minutes or until the cheese is completely melted. Remove from the oven, and allow to rest for 5 minutes before enjoying.  You can certainly enjoy these pizzas as a whole or you can slice them up into even sized slices. It is adorable that way.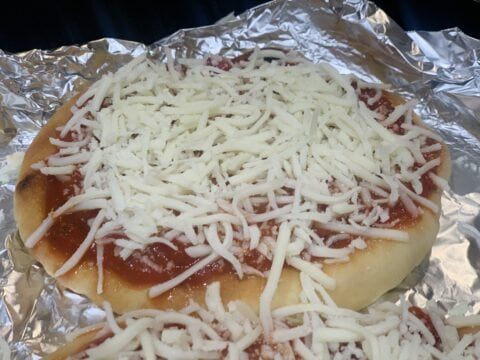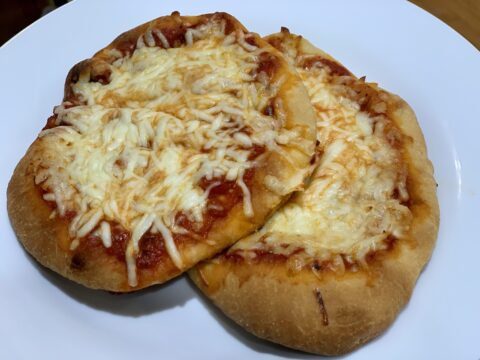 These pizzas were easy and quite fun to make! I am definitely going to make these naan personal pizzas with my cousins when they come to visit me in a few weeks. I'll be sure to stock up on their favorite toppings! Lots of pepperoni for 10 year old Jeremiah, some fresh green and red bell peppers for Chandler and plenty of mushrooms for Cameron! 
After making this pizza, I had to watch a movie to go with it. 30 minutes in, my belly was so warm and satisfied that the movie was watching me. I finally woke up at the end after the credits had rolled. Usually I'm disappointed when I sleep through a good movie. But, not this time. This time, I sure woke up happy because I had been able to satisfy my pizza craving and sleep with ease. Sometimes the simplest things are the best. I sure hope you give these Naan Pizzas a try and enjoy them with a movie of your choice! Enjoy!!