Dish Description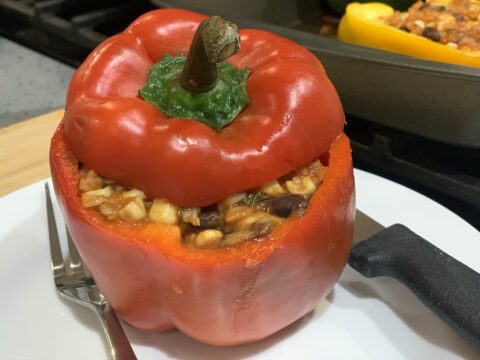 This dish was a family favorite growing up, not only because of the hearty flavors that came with each bite, but because of the fun effort that went into making this meal and the anticipation of eating! I always enjoyed looking around the dinner table at everyone's plate and trying the different kinds of peppers to compare the taste. (I still do that to this day when eating this meal)!
I enjoy learning a little bit about my foods before I cook them. Did you know that every bell pepper starts out green and ripens over time? The red kind are the most mature. Each one has its own flavor. The riper the pepper, the sweeter the flavor. I prefer the red and yellow ones. The green I choose to use in salad recipes. For this recipe, I used organic bell peppers.
Serves: 4
Prep: 15 minutes
Cook: 60 minutes
Ingredients For the Bell Peppers and Filling:
4 bell peppers (any color)
2 cups cooked rice
2 tablespoons olive oil
1 cup mushrooms, diced
1 cup kernel corn
15 oz. can black beans, rinsed
1 Serrano chili pepper, seeded and chopped (optional)
Ingredients For the Sauce: (This is a homemade marinara sauce, but you may use your favorite jar of store-bought sauce instead)
2 tablespoons olive oil
1 small white onion, diced
1 tablespoon garlic powder or minced garlic
1 teaspoon oregano
28 oz. tomato sauce
salt and pepper, to taste
1 tablespoon fresh thyme
¼ cup fresh basil, chopped
Directions For the Bell Peppers:
Slice the bell peppers so that the tops can be used as a lid. Take out the seeds and discard.
Directions For the Filling:
To a large skillet over medium-high, heat 2 tablespoons of olive oil and saute the mushrooms, corn, black beans and chili pepper together for about 6-7 minutes.
Add the cooked rice and combine well.
Directions For the Sauce:
To a medium-sized saucepan, heat 2 tablespoons of olive oil and saute the white onion, garlic powder, and oregano together for about 6 minutes.
Add the tomato sauce, salt, and pepper, to taste, fresh thyme and basil. Bring heat down to low and simmer for 5 more minutes.
Remove from the heat and add the rest of the filling when ready.
Directions For Assembly:
Preheat the oven to 350°F/177°C. Spray a baking sheet with cooking spray.
Pour the sauce over the rice and veggies and stir to combine.
Scoop the saucy rice mixture into each bell pepper until they are all filled.
Put the lids on their respective peppers and cover the baking tray with foil.
Bake for 45 minutes or until tender.
Allow to rest for 5-10 minutes before serving. Enjoy!
Now when making this meal get ready to do a little bit more work than usual, more so if you are making your own sauce, like this recipe calls for. Or use a store-bought jar sauce. Organic tomato basil is a good recommendation. This recipe does require some planning ahead. If you are making it for other people have a quick discussion about which vegetables they might want in the filling. You can really taste each one, so make sure the veggies you include, you actually enjoy eating.
The good news about this recipe is that it comes in handy when meal prepping. Make about six to ten peppers and you'll be good to go for the entire week. They're very filling! Have them for lunch or dinner! They make for a healthy choice of a meal!
For my filling, I added mushrooms, black beans, sweet corn, a little bit of a chopped Serrano chili pepper, and of course rice. Next time, I plan on adding zucchini and squash. That'll taste delicious!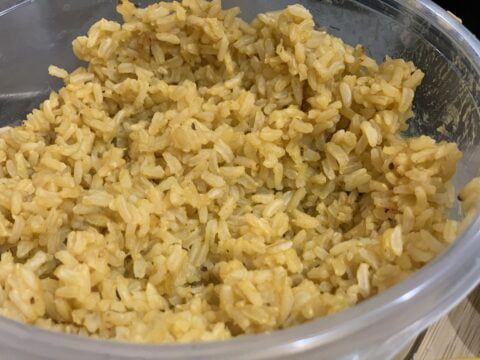 Also, please do not be afraid to season your filling. Have fun with the seasonings you have in your spice cabinet. I find that using chili powder really brings out the flavor even more. You can use taco seasoning too if you have any.
I feel like every time I make this meal it gets better and better. And if you have leftovers, the peppers are even better the next day, in my opinion. Save some of the filling for another dish such as tacos or even eat it by itself. Put some on top of a baked potato or mix together in a salad with fresh spinach leaves. Your palate won't regret it!
Set aside about 30 minutes for prep time in your kitchen. Get everything all chopped up beforehand so it is easier to just add those ingredients to your pan and stir as you go. Remember, you do not have to cook everything together perfectly because you're going to stick it all in the oven anyway to cook even more. My peppers took about 25 to 30 minutes to cook. The bigger the pepper, the longer the cooking time.
I want to add that if you are just learning how to cook, this meal is a great first dish to get your feet wet or should I say "get your hands wet," because you will be learning a lot of solid skills. You can really get a good idea of what it is like to cook in your kitchen after making this recipe. Have fun with whatever veggies and bell peppers you select and happy eating! Until next time!