RECIPE:
SERVES: 2
PREP: 5 minutes
COOK: 10 minutes
INGREDIENTS:
2 tablespoons oil

2 large bell peppers, seeded and thinly sliced

1 large onion (any type), sliced

2 tablespoons taco seasoning

2 tablespoons water

4 flour or corn tortillas

Toppings of choice
DIRECTIONS:
In a large skillet, heat olive oil over medium-high. 

Add the sliced bell peppers and sliced onions.

Cook for about 5 minutes. Stirring throughout. 

Add taco seasoning and toss to coat evenly. Add water and Cook for 5 more minutes.

Remove from skillet and place on top of tortillas.

Serve with desired toppings and sides and enjoy! 
Veggie Fajitas! Lately, veggie fajitas have been all the craze in my household. My family and I just love Tex-Mex. We truly cannot get enough. The flavors, the blended cuisine, and the spices keep us hooked. Now, this veggie fajita recipe is a spicy one for sure! So, here is a fair warning… If you cannot tolerate spicy food, then SKIP this recipe. Or, you can make adjustments by removing the spicy ingredients. It is entirely up to you.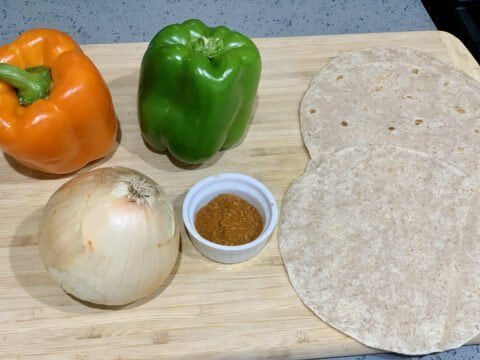 15 minutes…that's ALL it takes from start to finish to make these delicious Veggie Fajitas. Now, this recipe is listed as taking 15 minutes from preparation to the end of cook time. However, if you buy pre-cut veggies from the store, you can shave off 5 minutes. So, it will only take you about 10 minutes from start to finish! 
These veggie fajitas use only a few ingredients. That's what makes them so easy to make! They are a good way to use up any leftover produce that you may have on hand. You can buy taco seasoning from any one of your local grocery stores. You can also make your own by mixing spices such as garlic powder, cumin, chili powder, salt, black pepper, and crushed red pepper. Look up different variations online to choose a taco seasoning blend you might enjoy.  Make it in bulk, so that you can use it for future recipes. Or, you can use it to continue making these veggie fajitas if you discover you like them that much!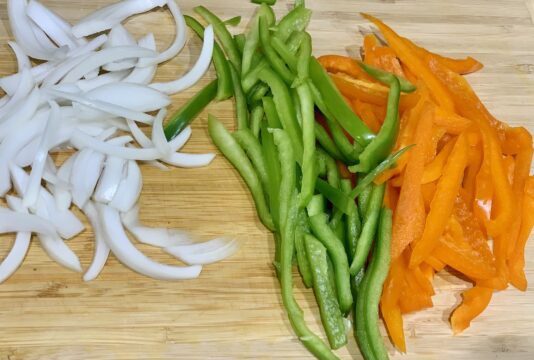 Although these fajita veggies are spicy, they are in no way too overpowering. I love spicy food so, I could have even used an extra tablespoon of taco seasoning to suit my taste buds. Using an additional tablespoon of taco seasoning will bring the recipe to 3 tablespoons of taco seasoning. So, only use 3 tablespoons if you like spice! And, just a fair warning, if you are serving this to kids, then you might want to scale back on the taco seasoning. Try using just 1 tablespoon of taco seasoning instead of 2 tablespoons. It can surely ruin a little one's meal if the food is far too spicy. 
Now, you might look at the vegetables used and think that it seems sparse. But, let me tell you that it was perfect for me and my family. In my household, we love a good combination of fresh bell peppers and onions. However, next time I make these, I am going to try to incorporate other vegetables that I like. Some mushrooms sound like a wonderful addition to bell peppers and onions. I will even be sure to try it with some black beans. I keep a lot of cans of black beans on hand. Truthfully, with a vegetable-based meal like this, the options are endless! Have fun and be creative!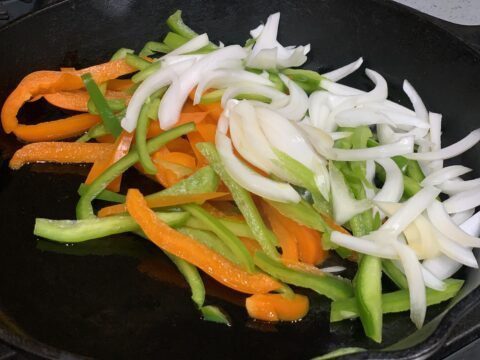 To all my meat lovers out there, please give this one a try! I love meat too, but once I took a bite out of one of my veggie fajitas, instantly, I was hooked. I think it is something in the spices and the crunch of the veggies that do not make me miss the meat. It gives me the texture and flavor that my palate craves. 
Top these with some heaping spoonfuls of salsa or guacamole and you will be in business! Once you have one bite, you will be going back for more! I hope you enjoy these delicious, spicy, and truly flavorful Veggie Fajitas. Double or Triple the batch to have leftovers for the coming days. Get as creative as you like and keep a cool drink on hand to calm your tastebuds. Enjoy!