RECIPE:
SERVES: 4
PREP: 10 minutes
INGREDIENTS:
2 ripe Roma tomatoes, roughly chopped

16 oz. can unsalted diced tomatoes

1 jalapeno, seeded and chopped

3 green onions

¼ cup, onion, roughly chopped

2 cloves garlic

handful of fresh cilantro

1 tablespoon fresh lime juice

1 teaspoon sugar

1 teaspoon chili powder

½ teaspoon cumin

salt and pepper, to taste
DIRECTIONS:
Combine all ingredients in a food processor until everything is chopped. 

Serve immediately with chips and tacos or chill to desired temperature. Enjoy!
You might wonder what to do with your extra tomatoes. How about you make some delicious homemade tomato salsa? Making homemade tomato salsa is so easy, fun and is made the best when you use the freshest ingredients. The ingredient list may look long, but all the ingredients blend to make a fresh-tasting and nicely textured salsa.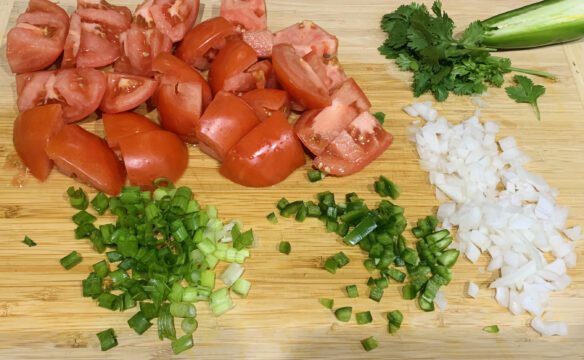 For this salsa, I used two super ripe Roma tomatoes, one can of diced and unsalted tomatoes, 3 green onions, half of a diced onion, (you can use any kind) fresh garlic cloves, fresh cilantro, (I love the smell of fresh cilantro!) fresh lime juice, granulated sugar, chili powder, cumin, salt and black pepper to taste. If you do not want to add sugar feel free to omit it. As long as you like the flavor of how you make the salsa, that is all that matters. There is also no particular way that you need to slice the veggies. You do not have to make them look pretty. A rough chop will do just fine. They just need to be chopped enough so that they can fit into the food processor. 
I highly recommend you use Roma tomatoes or Beefsteak tomatoes. Both of these tomato options are easy to slice.  Roma tomatoes are rich and robust in flavor. Beefsteak tomatoes are juicy, large, and meaty. They are a little bit more watery than Roma tomatoes are. Beefsteak tomatoes always come to mind when I think of tomatoes. I think they were the very first kind of tomato that I ever tried as a child. My dad used to always dress our cheeseburgers with beefsteak tomatoes fresh from our neighbor's summer garden!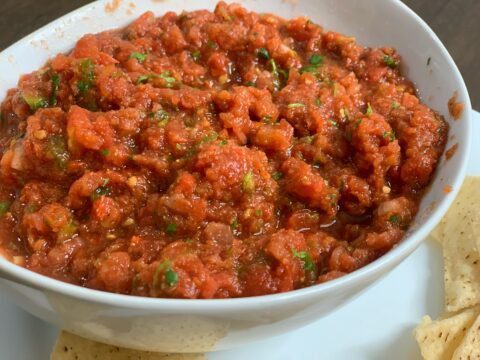 Speaking of summer, summertime calls for a lot of parties and get-togethers with friends and family. So, this is a great recipe to keep in your rotation. It's also way cheaper than buying pre-made salsas. And, it's healthier, cleaner, and fresher! I know that I have been making batches and batches of this quick and easy homemade salsa. Every time I bring it to a function, it gets rave reviews. Children and adults all love it! 
Serving this homemade salsa to children is a great way to get them to eat their vegetables. Most children I know love the flavor that salsa brings to their palate. They just know that they are eating a yummy dip and typically do not think that it is full of vegetables. Or, if the little ones do in fact like vegetables, then have them help you make this. They'll be so proud of themselves.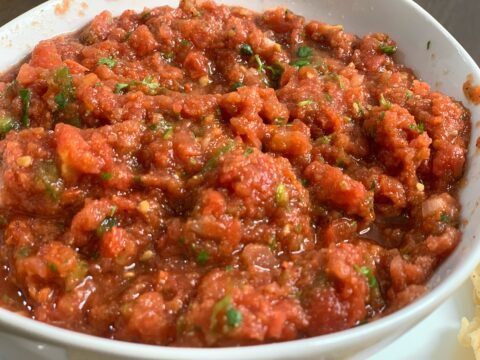 How do you like to enjoy your salsa? Do you like salsa with or on your tacos? How about with fajitas? Or, are you much more simple and enjoy indulging in salsa with only tortilla chips? I like it all! I don't discriminate. Can I let you in on a little secret? Salsa on a cheeseburger is very good! If you are not that adventurous, then try just dipping a little bit of your cheeseburger in the salsa and then trying it. If you have never tried salsa on a cheeseburger, then you are missing out for sure. However you choose to serve this salsa I hope you enjoy it and share it with your family and friends!