Rarely do I ever find a pasta dish I don't like. This Chicken and Spinach Pasta was one that I in fact LOVED!  I made this one on a whim this week and I am so glad that I did. Although it was late, I was SUPER hungry. The household was hungry. We were all so hungry. I needed something quick. I remembered I had to cook the chicken in the refrigerator anyway. Pasta with a protein is one of my favorite meals to whip together. So, what better thing to do at 1 in the morning? Cook, of course! If you guessed sleep, you must know, I had slept in pretty late the day before so I wasn't the slightest bit tired.
It was actually good to cook because I could just have the leftovers for lunch. It reheated really well. Now that I think about it, it might actually taste better the next day since the sauce and all the rest of the flavors have time to settle in. Kind of like marinating meat right? Now, you can see why that is so important!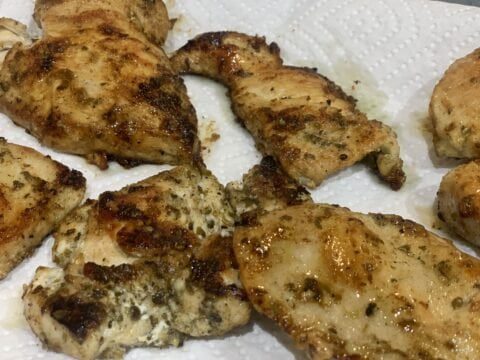 I began by cleaning, slicing and seasoning two large chicken breasts. I recommend slicing each breast in half lengthwise. That way, they will cook evenly. I generously seasoned them with poultry seasoning, garlic powder, salt, black pepper, dried thyme and oregano. I let that sit while I brought my salty water to a boil for the pasta. 
Recipe:
Serves: 2
Prep: 10 minutes
Cook: 15 minutes
Ingredients:
2 cups fusilli pasta, cooked according to package instructions

4 cups spinach
For the Chicken: 
2 large chicken breasts, sliced lengthwise

2 tablespoons olive oil

1 teaspoon poultry seasoning

1 tablespoon garlic powder

½ teaspoon dried thyme

½ teaspoon oregano 

salt and black pepper, to taste
For the Sauce:
15 oz can Tomato sauce 

1 teaspoon granulated sugar (optional)

2 tablespoons garlic powder

1 teaspoon dried thyme

1 teaspoon oregano 

salt and black pepper, to taste
Directions:
In a large skillet over medium-high, heat olive oil and sear chicken for 6-7 minutes per side or until the internal temperature reaches 165°F. 

Remove chicken from skillet and set aside.

Next, to the same skillet over medium heat, mix together tomato sauce, granulated sugar, garlic powder, dried thyme, oregano, salt and pepper. Stir and simmer for 6 minutes.

Next add the chicken back in the skillet with the sauce. Add spinach and cover the skillet to allow it to cook down. 

Once the spinach is cooked down, either add the pasta and toss, or serve the sauce with chicken over the pasta. Enjoy!!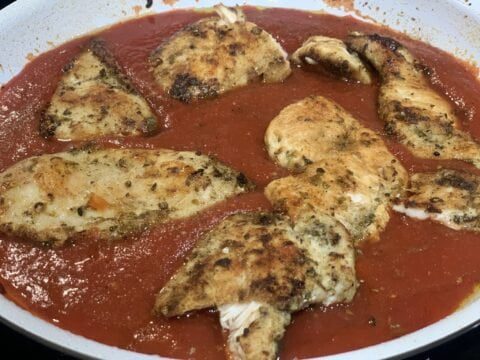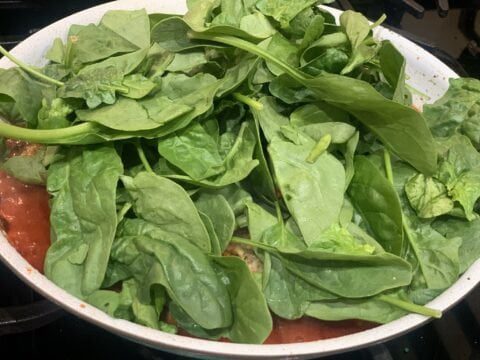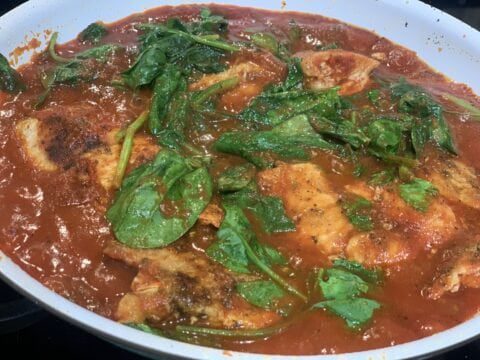 While the pasta boiled, I seared the chicken in some olive oil over medium-high heat. Once that was fully cooked, it was time to make the sauce. I used a plain can of tomato sauce, and added the same spices to it as I did for the chicken. I swapped out poultry seasoning for sugar. Pretty simple right? Add sugar if you want to cut down on a bit of the acidity from the tomato sauce. This method of making sauce is a lot cleaner and cheaper than pre-made pasta sauce. So, if you are looking to save some money, always keep a few cans of plain tomato sauce on hand for when you have those saucy pasta cravings. 
For the pasta, Fusilli is what I used. In fact, it was gluten free fusilli pasta that was made from brown rice and quinoa. It's all I had on hand at the moment and I wanted to use it up before buying more. If you have tried gluten free pasta, can you tell the difference between that and regular pasta? I'm not sure if I can. I'm leaning towards the fact that I can't. That's a good thing for me because I love pasta and would have hated to mess up my dish with a pasta I did not like.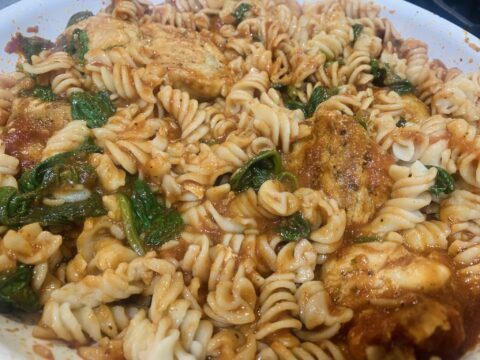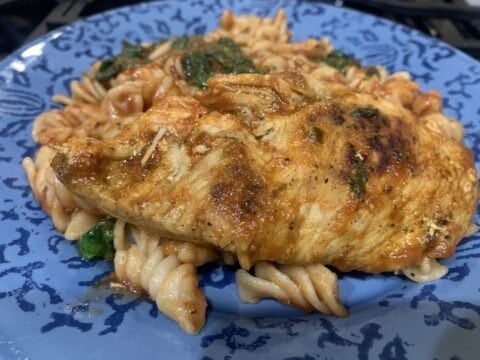 Of course however, use whatever pasta you would like to use. Whichever type it is that you use, make sure it is a good one. Afterall, the pasta is the base of the entire meal. You want that to taste delicious, right? I then added some spinach at the very end. I added it at the end since spinach does not take very long to cook. Be sure to give it a good stir in the sauce so that it can distribute evenly. 
This meal is quick and easy to make. So, if you are anything like me and you get hungry at 1 am, then put this in your rotation. It is robust in flavor, with only a handful of spices needed to give it some kick. Enjoy!!