No wok required for this delicious Chinese Pepper Steak! Just a basic skillet is all you need. This pepper steak is better than take out. No, seriously! This is coming from someone who has searched high and low for the best takeout Chinese food. Trust me when I say that if you serve this to guests, they will ask you where you ordered the meal. Something I like about this dish is that I know exactly what I am putting in it. A lot of times, restaurants can use a lot of salt in their dishes resulting in sodium overload. This is not good for us. 
For this dish, you need some basic ingredients. If you have made Chinese food or Chinese-inspired food before, then you most likely have a lot of these ingredients on hand. The ingredients that you will need to create this fantastic dish are: steak, a green bell pepper, a large onion, reduced sodium soy sauce, oyster sauce, low sodium beef broth, corn starch, fresh ginger, garlic powder, black pepper, sugar and oil for cooking. It sounds like a lot, but they are basic ingredients that come together to form into a wonderful, delightful and flavorful takeout-inspired meal!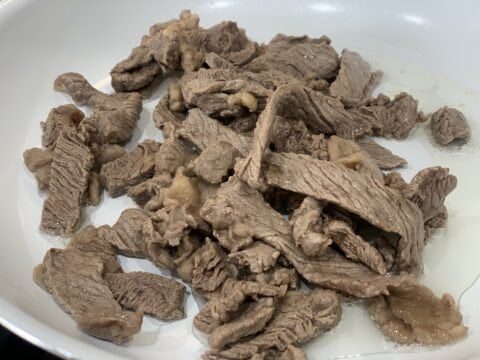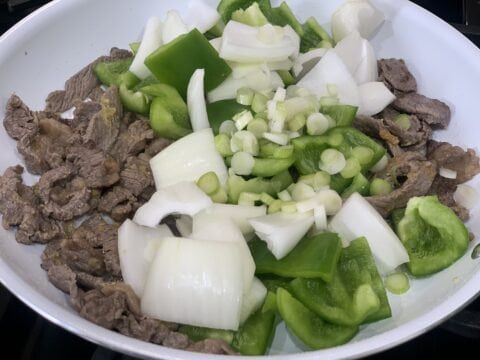 Recipe
Serves 2:
Prep: 15
Cook: 15
Total: 30
Ingredients:
10 oz. ribeye steak

2 tablespoons vegetable oil

1 green bell pepper, chopped in large chunks

¼ cup chopped scallions

1 large onion, chopped in large chunks

¼ cup reduced sodium soy sauce

2 tablespoons oyster sauce

½ cup low sodium beef broth 

1 tablespoon cornstarch

1 teaspoon fresh grated ginger

1 tablespoon garlic powder

1 teaspoon black pepper

2 tablespoons sugar 
Directions:
PREP:
Partially freeze ribeye for 15 minutes. Remove from the freezer and slice into thin strips. 

Next, in a medium-sized bowl, mix together soy sauce, oyster sauce, beef broth, and cornstarch. Set aside.
COOK: 
Over medium-high, heat oil and cook sliced ribeye along with ginger and garlic powder. until evenly browned (about 5 minutes).

Next, add the chopped bell pepper, chopped onion and chopped scallions. Cook for 4 more minutes. Toss occasionally. 

Add in the soy sauce mixture, black pepper and sugar. Bring to a boil then Reduce to a simmer for 5 minutes. 

Toss, remove from heat and serve over rice. Enjoy!!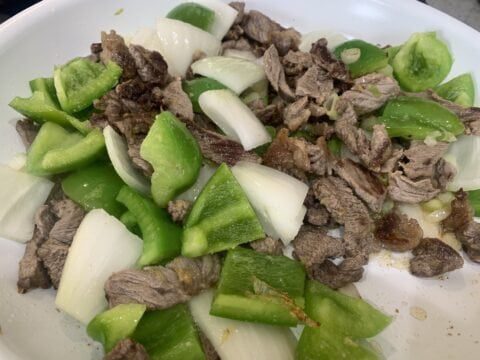 Now, there are a few different cuts of steak that you can use in this dish. However, I have found ribeye to be the best steak to use for this dish. Ribeye steak is best known for its marbling and the juicy flavor that it offers your tastebuds. It is easy to slice it into thin pieces as well. Ribeye steak offers a great source of iron and zinc as well. Here's a tip to make slicing your steak easier: Freeze the raw steak for 15-30 minutes. Then, remove from the freezer and slice with a sharp knife into thin slices. 
This is an easy dish to make for company and is just as easy to make for yourself. You can make one serving or double or triple this recipe to make plenty for you and your guests. Enjoy it as you wish for lunch or dinner. And, to stretch out a meal like this, serve it with some rice or fried rice. If you want to stay true to what you get from Chinese takeout, then serve this pepper steak dish with steamed white rice. However, if you would much rather prefer to stay on the healthier side, just like your reduced sodium soy sauce, then enjoy this pepper steak dish with some brown rice, cauliflower rice or some quinoa.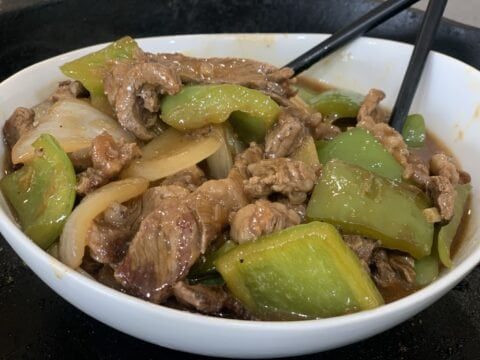 Honestly, if you like pepper steak, you can't go wrong with this dish, if you use the ingredients listed. It has a fairly quick prep and cook time. Your meal can be on the table within 30 minutes from the time you start prepping to the time you finish cooking. I hope you enjoy this and make this at-home version the next time you think about grabbing your phone to order Chinese take out. Enjoy!