I never considered using oatmeal to make cupcakes until just recently. Oatmeal by itself has been one of my favorite breakfast foods since as long as I can remember. It was a must have for me before heading into school as a young child. To this day, I still love a good bowl of oatmeal topped with my favorite fruits. Now, the almost 25 year old me knows that my palate not only loves oatmeal by itself, but, in cupcake form as well!
There is really so much you can do with oatmeal. Oatmeal bars, protein balls, oatmeal muffins…the list goes on and on, but once you try these cupcakes, there will be no turning back!
I was trying to figure out if I wanted to make an oatmeal cake or cupcakes. I chose cupcakes because I wanted to share some with my neighbor's young daughter and thought it would be easier and more presentable if I gave her oatmeal in a cupcake form topped with delicious cream cheese frosting. Might I say that this treat tastes a little bit like carrot cake once you add on the cream cheese.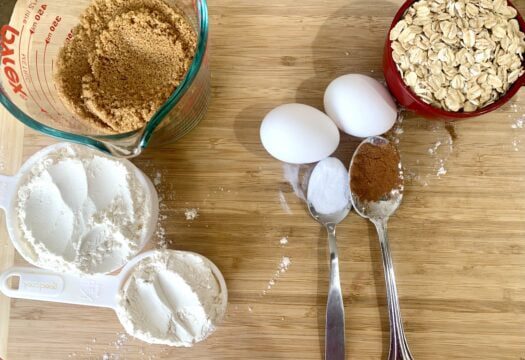 Serves: 12
Prep: 15 minutes
Cook: 35 minutes
Ingredients
1 ⅓ cups boiling water
1 cup oats
1 stick butter, melted
1 ⅓ cups flour
1 teaspoon cinnamon
½ teaspoon salt
1 ½ cups brown sugar
1 teaspoon baking soda
2 large eggs
For the Frosting:
8 ounces cream cheese, softened
3 cups confectioners sugar
2 tablespoons water
1 teaspoon vanilla extract
Directions
For the Cupcakes:
Preheat the oven to 350°F/177°C and place cupcake liners in a cupcake pan.
In a medium sized bowl, combine the oats and butter.
Pour the boiling water over the oats and butter, mix and rest for 5 minutes.
Meanwhile, in a large bowl combine the flour, cinnamon, salt, brown sugar and baking soda.
Next, pour the oat mixture into the dry ingredients and fold.
Add the 2 large eggs and mix until just combined.
Pour the mix into the cupcake liners.
Bake for 30-35 minutes. Allow to cool completely before frosting.
For the Frosting:
In a medium sized bowl, mix together softened cream cheese, confectioners sugar, water and vanilla extract until smooth.
Use to frost cupcakes.
If you want to make this recipe, you will need brown sugar, flour, baking soda, two large eggs and of course dry oats. I used organic dry oats, but feel free to use whichever kind of oats you prefer. When baking, soak the oatmeal in boiling hot water for five minutes before mixing in your dry ingredients. It will not take long before you start to smell all those different ingredients mixed together permeating through your kitchen. I can smell it all as I write!
Did you ever take in a special treat to school on your birthday? Was it cupcakes? Yes! That was my favorite treat to take to share with my classmates while celebrating my special day. I would normally just take vanilla or chocolate cupcakes but looking back now, I wish I had gone the oatmeal route….they are just THAT delicious.
What I like about this recipe is that you can eat it for breakfast or dessert. You can add the icing for a sweeter taste or leave it off, it is up to you. You know your palate best. I sprinkled some cinnamon on top of some of the cupcakes and left the other ones just with the cream cheese frosting.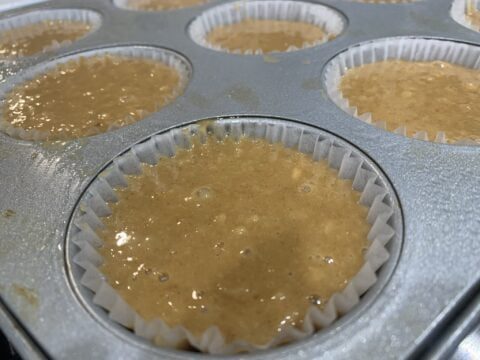 This recipe reminds me of fall but like a lot of my recipes, oatmeal cupcakes can be appreciated year-round. Just like oatmeal, you can mix in whatever you like. Turn these into banana oatmeal muffins without the cream cheese topping, or add in some chocolate chips! The possibilities are endless! Get as creative as you want.
If you prefer these cold, store them in the refrigerator overnight. If you enjoy them at room temperature, store them in Tupperware or wrap them in aluminum foil. This recipe is an easy "go-to" recipe when I do not feel like making breakfast throughout the week and I just want something quick, easy and delicious to snack on before starting my day. Enjoy a glass of warm or cold almond milk with it. It will go great with these cupcakes! Until next time! Happy eating!