Dish Description
Let's make a big and fresh Spring Salad! I love springtime because that means picnics galore! I recently had a small picnic with my sister at the park, and it was just what the two of us both needed to welcome the spring season properly. The weather was just beautiful. And yes, with it being sunny and warm in Los Angeles, California, practically all year round, that should be no surprise. But, there was certainly a different and much more crisp feeling in the air. It was almost like spring was saying, "Here I am, I am here!" This picnic called for a giant salad with only the freshest of ingredients. For the roughage base, I used a bag of spring mix. It tasted so fresh! I added chopped yellow apple, chopped green pear, freshly shredded carrot, diced cucumber, and strawberry slices along with the spring mix. To finish the salad off, I made a pear vinaigrette.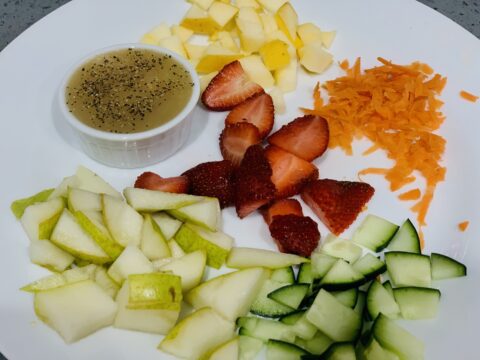 Serves: 4
Prep: 10 minutes
Cook: 3 minutes
Ingredients For the Salad:
16 oz bag spring mix
1/2 green pear, chopped
½ yellow apple, chopped
½ cup strawberries, sliced
1/4 cup shredded carrot
¼ cup cucumber, chopped
Ingredients For the Pear Vinaigrette:
½ green pear, chopped
3 tablespoons apple cider vinegar
3 tablespoon olive oil
salt and pepper to taste
Directions
In a large bowl, mix all the salad ingredients.
In a blender, blend ½ green pear, apple cider vinegar, olive oil, salt, and pepper to taste.
Use as much or as little vinaigrette to dress your salad. Enjoy!
Once you try this homemade pear vinaigrette to go with the salad, you won't want to make store-bought dressing your go-to anymore. And, no knock on store-bought dressings, but by the time you break through their protective seal, you could be blending up your very own batch of fresh dressing. It can be just as quick, and you know EXACTLY what is going in it. If you are being more conscious about what you put in your body to fuel it, try to make some homemade dressing yourself!
Making a vinaigrette is quick and very fun! I love to make my own vinaigrettes for my homemade salads. In the past, I have made raspberry vinaigrette, peach vinaigrette, and apple vinaigrette A LOT. However, this pear vinaigrette was probably the easiest one to make out of all of the ones I have ever made. If placed in a jar with a tight lid, this pear vinaigrette can keep in the refrigerator for up to two whole weeks! It still tastes fresh by the end of week two. So, you can guarantee that your extra prep in the kitchen will not go to waste. You can also pair the vinaigrette with other meals such as roasted chicken with mashed potatoes. You can even use it as a dipping sauce for carrots, apples, and celery! The options are endless! If you use a sweet pear, this dressing gives off the most perfect sweetness. The vinegar helps to balance it out by giving it a twinge of acidity.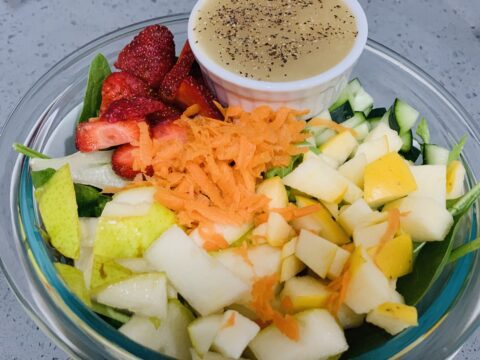 I recommend that you chop up the fruit and vegetables into manageable bite-sized pieces so that you can get a little taste of every ingredient with one forkful. This salad comes together in about 10 minutes. Once you take a bite of all of those ingredients on your fork, you'll know just how worth it it was to spend a little extra time making it. And, if you choose to have a picnic with a relative or friend like I did, you certainly won't want to leave this lovely dish off the menu. Enjoy making and tasting your Fresh Spring Salad with Pear Vinaigrette! Happy Eating!