Dish Description
Now, THIS is the easiest dessert to make. It truly is! These Rice Krispies Treats take very little time to make. All you need is 10 minutes of free time and a few ingredients and you will be on your way to eating one of the yummiest desserts around. So, get your sweet tooth ready, because it's about to go down!The ingredients needed for this recipe are: 7 cups of Rice Krispies cereal. That sounds like a lot, I know. You will also need a 10 ounce bag of marshmallows, 4 tablespoons of butter and cooking spray. That's it! Sounds pretty easy right? That's because it truly is. Let's get started!
Serves: 12
Prep: 5 minutes
Cook: 5 minutes
Ingredients
7 cups Rice Krispies cereal
10-ounce bag marshmallows
4 tablespoons butter (salted or unsalted)
Directions
In a large pot, melt butter and marshmallows over medium heat.
Add Rice Krispies cereal and stir well to combine.
Transfer to either an 8×8 inch pan or a 9×13 inch pan and spread the mixture to fit.
Allow to rest and cool for 10-15 minutes before serving. Enjoy!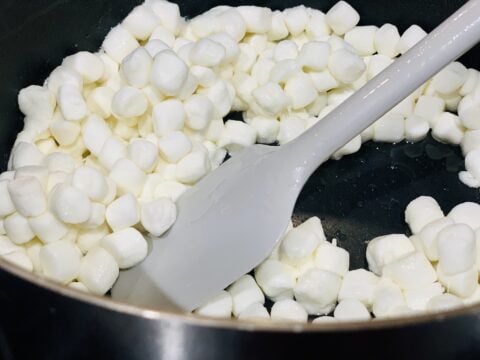 Marshmallows get extremely sticky as they melt which is why they make for the perfect binding agent for Rice Krispies Treats. You are going to want to spray EVERYTHING with the cooking spray. Spray the pot that you are using really well. You will want to spray both the bottom and the sides. You will even want to spray your spatula/spoon and your 9×13 inch rectangular pan or 8×8 inch square pan. Depending on which size pan you decide to use, that will determine the thickness of your treats.
Next, add the 4 tablespoons of butter and allow it to melt on medium-low heat. Once the butter is melted, spray a wooden spoon or rubber spatula with cooking spray. Add the marshmallows and stir until they are melted as pictured.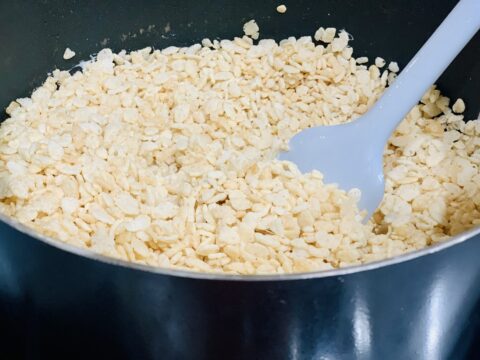 Once the marshmallows are completely melted, pour in your Rice Krispies and fold them into the melted marshmallows until everything is sticking together well. Be delicate because the Rice Krispies have a tendency to want to fly out of the pot. I really can't stand when they get all over my stove.
You want your Rice Krispies to be completely covered with the melted marshmallows. Now, this step is the perfect time to get creative. I just left my Rice Krispies plain since I prefer to eat them that way. By creative I mean that you can add any mix-ins that you choose. Feel free to add in m&ms, cocoa powder, Oreos, chocolate chips, pretzels etc. You have a lot of leeway here! If you choose to incorporate other fun ingredients then simply use this recipe that I am giving you as a guide for a simple Rice Krispies treat and go from there. You can also drizzle melted chocolate over the Rice Krispies treats or dip them halfway in melted chocolate.
After getting everything well mixed and combined, be sure to spread out the Rice Krispies and Marshmallow mixture in your sprayed baking pan in an even layer. You want every piece to be the same size and thickness when cut. Allow the treats to cool for at least 10-15 minutes before slicing. These can last in a ziplock bag for up to a week. This recipe is so easy that it might just become your go-to quick dessert! Enjoy with milk and a friend or two!