Dish Description
What better dessert to welcome spring with than a delicious scoop of mango sorbet? Make that two or three scoops! It's just that good. This treat is great to have after eating a pasta dish for example or a nice homemade Italian meal. Made spaghetti tonight? You might want a couple scoops of sorbet to finish off your evening. I tend to want a lighter dessert after a full dinner, and this mango sorbet is usually my go-to.
I made a single serving this time around, so I only needed one mango, which I bought from my local market. In addition to the mango, I used two tablespoons of honey (the more you add the sweeter the sorbet), water and fresh lemon juice. I chose to make this recipe because it is very sentimental for me. I grew up in the northeast just outside of Philadelphia, which is a city known for Italian ice. I loved that treat (especially when paired with soft pretzels which are also very popular in Philly) and every spring and summer I could not wait to wrap my lips around Italian ice with a dollop of soft serve ice cream on top (which is called a Gelati). This mango sorbet reminded me of those days when I would enjoy a fresh mango Italian ice (kids size) from the popular chain Rita's Water Ice. That was my favorite dessert and mango was always my flavor of choice.
Serves: 1
Prep: 3 minutes
Chill:4-6 hours
Ingredients
1 mango, sliced
2 tablespoons honey
¼ cup water
1 teaspoon fresh lemon juice
Directions
Blend the mango, honey, water and lemon juice together.
 Scoop into a tray and freeze for 4-6 hours.
Remove from the freezer. Serve and Enjoy!
Making this recipe also gets me thinking back to those days of hanging out with my cousins in Virginia and playing out back at my grandma's house in the hot summer heat. We'd all be enjoying our popsicles, sorbet or ice cream (my grandma always had treats waiting for us in her freezer). Whenever I enjoy a nice cold treat, I long for those old summer days.
Now for this recipe, I chose to keep my sorbet plain mango, no other added fruits, but if you want, mix in some banana or strawberry and you will still have yourself a delicious dessert. Or include other fresh fruits on the side! If you like mint, grab some fresh mint leaves to mix in there too or sprinkle them on top.
I also like this recipe because there's so much you can do with the mango once it's blended. Pour the mixture into popsicle molds and freeze to make homemade mango popsicles for the family to enjoy. Or make it into ice cubes by pouring some mixture into an ice tray and freeze it overnight.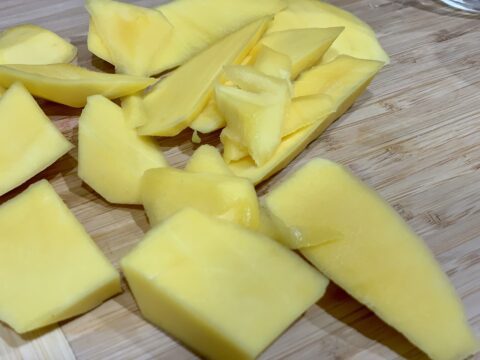 This dessert is relatively a healthier choice for me than ice cream, for example. When I eat ice cream, I usually opt for a sundae with so many different toppings. (Too many calories after a while)! So instead, when I have the time, I'll make enough sorbet to last me through the week. If I have more extra time, I'll make different flavors of sorbet. My next favorite sorbet flavor is strawberry. If I do start to crave a sundae instead, I'll top my sorbet with some fresh whipped cream and place some strawberries on top! If you have little ones, they would absolutely love it that way! They'll be all wide-eyed too if you choose to add sprinkles on top! Until the next recipe! Happy eating!