Dish Description
Miso Soup is such an underrated soup. I first tried miso soup about 10 years ago. My sister had a roommate in college who was from China. She introduced it to my sister and I tried some too. It was delicious. 
To save on time, I went ahead and bought a miso ginger broth but, you can also just use a plain miso broth if you don't like the taste of ginger. Or if you buy a miso broth you can add ginger by either grating it, using ginger powder or paste, or by just putting a cut ginger root in the broth and taking it out before you serve it. It is all up to your preference. 
I will say the ginger taste can be pretty strong. I used a few basic ingredients. I used tofu that's saturated in liquid and cut it into bite sized chunks. Use as much tofu as you like. An ingredient that you do not want to skip out on is fresh green onion. That will really make the dish. The green onion provides that strong smell that just adds to your food. 
Serves: 4
Prep: 5 minutes
Cook: 15 minutes
Ingredients
4 cups miso soup broth (I used miso ginger broth from Trader Joe's)
½ cup tofu, diced
1 cup green onion, chopped
Directions
In a large saucepan over medium-high heat, bring to a boil miso soup broth.
Bring heat down to a simmer and add the tofu and green onion. 
Simmer for 10 minutes before removing from the heat and serving. Enjoy!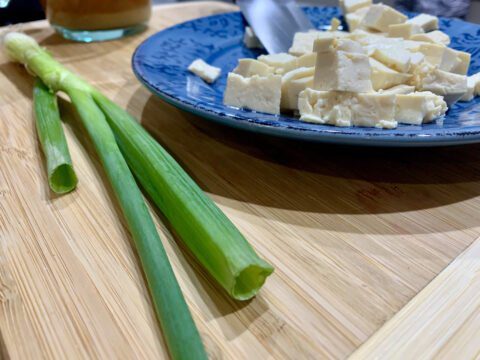 I simmered the soup for about ten minutes. The prep was extremely easy. It took no time at all. The finished product tastes just like the soup that I served as an appetizer at a restaurant. Serve this dish with whatever you want. Make sure you slice the onion and tofu nicely. Try to make it look as presentable as possible. This serves four people. I used four cups of miso broth. Now if you're adventurous go ahead and absolutely make your miso broth from complete scratch. I haven't gotten to that point yet but, I do hope to try that soon. This is a perfect main dish but, it can also be an appetizer to serve before a big dinner such as a hibachi meal. Now, miso soup is pretty filling with the tofu and the flavorings so I recommend  you do not eat a full portion as an appetizer. 
I love how the tofu just floats to the top after plating this. It just makes for such a pretty presentation. This is the perfect dish to serve to your party guests. It can look quite fancy, but it really takes zero to no time in the kitchen at all. If you're big on texture, you might prefer firm or extra firm tofu as opposed to the softer texture I used. The one thing about this soup is that it is very forgiving, so if you add too much of one ingredient you can always balance it out with other ingredients.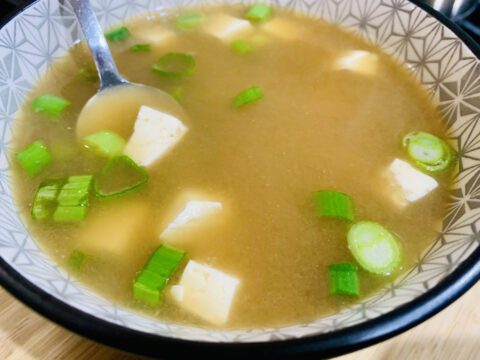 So, If you have never tried miso soup and you are a picky eater, this is a good first starter as a soup to try. It has a different taste, but it is a very delicious one. I hope this makes your palate happy and that you find as much joy in making this delicious soup as I did. If it is still cold in your neck of the woods, this will surely warm your tummy.