Dish Description
Absolutely Delicious Strawberry Shortcake, I am wondering and others might be too, how did you get your scrumptious name? Well, because you are a cake, a delicious edible creamy cake, I truly don't expect you to answer me. I know I love cooking and baking and sometimes, long periods of hanging out in the kitchen with flour, sugar, eggs and butter all day, well, it can make you have some loopy and unusual, yet creative thoughts or questions. Perhaps too much sugar or flour dust. So, I decided to do my Google research. I am a Millennial after all.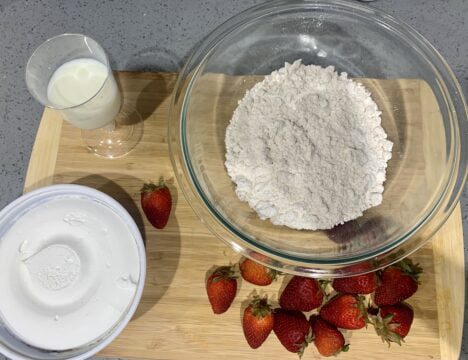 Serves: 8
Prep: 10 minutes
Cook: 10 minutes
Ingredients For the Biscuits:
2 1/4 cups Bisquick mix
2/3 cup milk
Ingredients For the Whipped Cream:
Ingredients For the Plain Strawberries:
½ cup strawberries, sliced
Ingredients For the Sweetened Strawberries:
½ cup strawberries mashed up and mixed with 1 tablespoon sugar
Directions For the Biscuits:
Preheat the oven to 450°F/230°C.
Mix together the Bisquick mix and milk.
Spread the dough out flat and cut into circles using either a biscuit cutter or a glass cup.
Optional: mix together 1 egg and 2 tablespoons milk and spread on the top of the biscuits so they get a golden top while baking.
Lay on a baking sheet and bake for 8-10 minutes.
Directions For Assembly:
Cut the biscuits in half, put a dollop of Cool Whip on the bottom halves along with a dollop of sweetened strawberry mixture.
Top with plain sliced strawberries and place the top half of the biscuit on top. Enjoy!

And, I will share with you what I found out. To directly quote Google: "The name "shortcake" is derived from an old English cooking definition of short which referred to something made crisp with the addition of fat. Shortcake is a crisp, crumbly cake made from butter which is how it got its name." There. You have your answer and so do I.
Now, let me tell you what fun I had making this for you. First, I made my life a lot easier. I used Bisquick mix. When I was growing up, my mom always used Bisquick mix. Her mom never did. Grandma's biscuits were always homemade.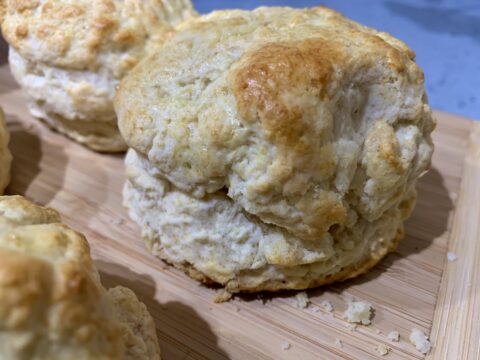 Today, I'm going to play on Team Mom. Bisquick mix it is. I'm keeping it simple for you and for me. You will need: Bisquick mix and milk. I even added an egg wash mixture that I will share with you on the recipe instructions if you choose to use it. It is optional. I just wanted a glossy, golden finish. I like pretty presentations, but again, this step is optional. I also love strawberries and cool whip. To make a sweet strawberry syrup, I used half of the strawberries and mashed them with a fork. I, then, added sugar to sweeten them. Once the biscuits were ready and out of the oven, I let them cool a little first for a few minutes before putting the yummy cool whip, strawberry preserves and freshly sliced strawberries inside. I cut open the biscuit and added a heaping dollop of cool whip and put the strawberry syrup mixture and fresh strawberries slices on top of cool whip and closed the top of the biscuit.
Then, of course, I had to try it. In fact, I had to try another one just to make certain that my taste buds were not fooling me with so much deliciousness. Remember earlier I told you that I was beginning to get a little loopy by spending so much time with flour,sugar, eggs and butter. Well, this dessert put me in a euphoric state and I hope it does the same for you. It is such a delightful dessert to make and eat and I am sure once you make this recipe, you will concur. My only suggestion is, if you are not going to eat them all in one sitting (I did not) just make the portion you know you will eat or else the biscuit will be soggy and will not give you that fresh out of the oven taste you had the first time around.
So in other words, layer as you eat. You can always heat your biscuit in the microwave for a minute or in the oven for about five minutes. Or perhaps, you like cold biscuits. Your Strawberry Shortcake, your choice. However, your cake crumbles, Enjoy it!