Dish Description
Okay, I know it's spring and here in Southern California, it's been really hot. But I have never been the kind of person to let the weather determine which foods I should or should not make. I will eat chili when it is 80 degrees outside or 50, and I'll stuff my face with a sweet potato pie or pumpkin pie in the heart of summer. With all that said, even though it has been in the eighties where I live, hot chicken noodle soup has been on my list to make for a while. It is very hearty, healthy, and oh so satisfying!Serves: 8
Prep: 15
Cook: 25
Ingredients
2 tablespoons olive oil
½ cup carrots, diced
1 cup celery, diced
1 small sweet onion, diced
2 tablespoons garlic powder
8 cups low-sodium chicken broth
1 tablespoon Italian seasoning
salt and pepper, to taste
2 cups egg noodles
2 cups shredded cooked chicken (either seasoned or unseasoned)
Directions
To a large pot over medium-high, heat the olive oil.
Saute the carrots, celery and onions.
Add the garlic powder, low-sodium chicken broth, Italian seasoning, salt and pepper to taste.
Add the cooked, shredded chicken and egg noodles. Boil for 10 minutes or until the egg noodles are soft.
Turn heat down to low and simmer for another 10 minutes before serving. Serve and Enjoy!
This is not just any old chicken noodle soup. This is a special recipe that goes back more than a decade. It all started when my childhood neighbors, who were from Greece, would bring over their own special pot of homemade chicken noodle soup for myself and my family to enjoy. This happened quite often. Every month or so, my neighbor would saunter over to my lawn, knock on our door and deliver her homemade recipe in a brown paper bag. I'm telling you right now, that was the BEST soup I had ever had at that point, and I remember it fondly.
My wheels started to turn early on, and I began to want to make my own recipe. I played around with vegetables and seasonings and am proud to say I have finally perfected my own soup to my liking.
This meal is easy and fun. I love chopping veggies. I find it to be so therapeutic. When making my meals, I am very particular about the vegetables I use, especially when making soups. For this dish, I decided to use chopped celery, carrots and onion. I also have friends who add broccoli to their chicken noodle soup. I find that keeping it basic and simple will get you far with this dish. Add the egg noodles to this dish and then add whatever herbs and seasonings you want.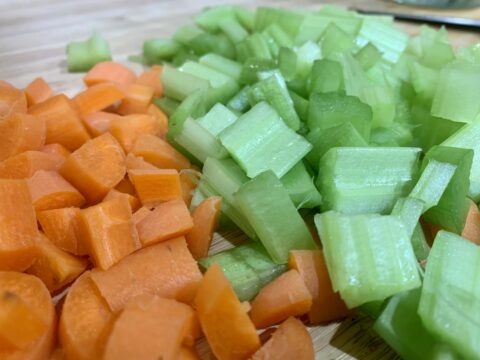 Also as a child, I always had a bowl of soup to help ease a cold. I still find that if I'm feeling a little under the weather, this homemade soup gets me feeling better in no time. Research does show that chicken noodle soup can ease cold symptoms. I can attest. Personally, I think my symptoms ease faster when the soup is homemade, made with fresh ingredients and herbs.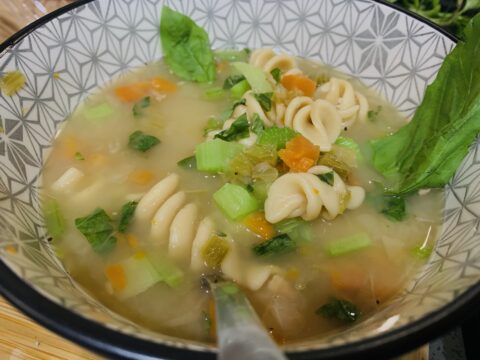 This soup can be stored away in the freezer for up to six months. It will last in the refrigerator for about a couple of weeks. It is also so easy to heat up and pack for lunch. Heat it up on the stovetop or microwave and put it in a thermos to take to school or work.
I have a few plastic soup containers on hand so next time I make this dish I will take some over to my neighbors and continue a tradition of "soup-giving" that I was introduced to at such an early age. Until next time! Happy Slurping!