RECIPE:
SERVES: 4
PREP: 10 minutes
INGREDIENTS:
2 cups whole corn kernels (fresh or canned)

¼ cup fresh cilantro, chopped

½ small onion, diced

1 tablespoon cumin

1 tablespoon chili powder

1 teaspoon salt

½ teaspoon black pepper

1 teaspoon fresh lime juice
DIRECTIONS:
In a large bowl, mix together: corn, cilantro, onion, cumin, chili powder, salt, pepper and lime juice. 

Serve with chips, tacos and fajitas and Enjoy! 
Corn is such a versatile crop! And, it is for sure one of my vegetables to eat. Ever since I was a little girl, I have always liked corn. However it was prepared, I was at the table ready to eat. Plain corn on the cob, corn fritters, cornbread, corn pudding, you name it and I was there. 
One of my favorite ways to use this delicious summer staple is to make corn salsa. I was first introduced to corn salsa at Chipotle many years ago. They have an extremely yummy corn salsa. After trying their corn salsa, I tried to copycat their recipe but ended up making something that did not taste like it. However, it was still good and I continue making it to this day. I like my version better. I like making corn salsa myself now because I can make as much or as little as I want. I can control my salt and spice measurements as well! There is something so satisfying about being able to recreate a dish you like in your very own kitchen. 
Corn salsa goes well with a lot of meals. You can truly pair it with any and everything. This corn salsa recipe is easy to make and should take no more than 10 minutes of your time. So, set your timer for 10 minutes, and let's get started on making some delicious corn salsa!
The ingredients that you will need to make this corn salsa are whole corn kernels, fresh chopped cilantro, diced onion, ground cumin, chili powder, salt, black pepper, and fresh lime juice. I already had all of these ingredients on hand so it was easy for me to whip up this salsa in a pinch. I paired the corn salsa with some fajitas. They went perfectly together.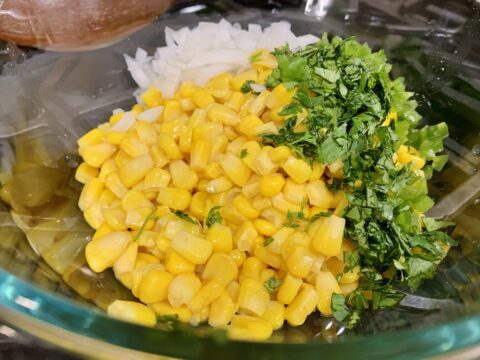 When I think about serving a dish to others, I want it to be delicious, but I also want it to look beautiful! Corn salsa is a beautiful dish to make. It is so vibrant with its bright yellow color from the corn. The bright green from the fresh cilantro makes it pop even more. And, when the white from the diced onion is added, it adds beauty too. A purple onion would be pretty as well. Some diced tomatoes can add a pretty reddish color. I chose to not use tomatoes. I much rather prefer to stick to just corn as the vegetable base for this salsa. 
There are many ways to serve this corn salsa. Either serve it immediately after making it, place it in the refrigerator to chill to your desired temperature, or warm it up! The spices can be adjusted to taste. More or less cumin, chili powder, salt, or pepper can be added according to your personal preference. This dish is sure to satisfy your tastebuds and add to your meal. Enjoy!!