RECIPE:
SERVES: 6
PREP: 15 minutes
Cook: 30 minutes
INGREDIENTS:
2 tablespoons olive oil

4 Russet or Yukon potatoes, washed and scrubbed

1 teaspoon garlic powder

½ teaspoon onion powder

1 teaspoon salt

½ teaspoon black pepper

½ teaspoon paprika
DIRECTIONS:
Preheat the oven to 400° F. 

Either peel potatoes or leave them unpeeled (I left them unpeeled). Slice into 1-inch thick slices.

Soak in a bowl of cold water for 25-30 minutes. 

Drain water and pat dry really well. 

Toss with olive oil, garlic powder, onion powder, salt, black pepper and paprika.

Place on a baking sheet and spread out. Bake for 15 minutes. 

Remove from the oven and flip fries over so they can bake on the other side. 

Bake for 15 more minutes. 

Remove from the oven and sprinkle with more salt if desired. Serve and Enjoy!
I know a lot of people are making french fries in the air fryer nowadays. However, for those of you who do not have an air fryer, I present to you…Oven Fries! Oven Fries are one of the easiest ways to use potatoes! There's something about oven fries that just satisfies my palate. The crunch and the flavor make me never want to fry another fry a day in my life!
Slicing the oven fries is a really fun part and you can be as creative as you want with this process. I chose to cut mine about 1-inch thick. However, you can have them in steak fry form. You can even try to make them into crinkle fries. Shoestring fries are easy to make too! It's really up to you. 
The most important step of this whole process is to properly soak the potatoes. This helps to remove their starch layer so they can crisp up in the oven. You want to soak them for at least 25 to 30 minutes in some cold water. Be sure to pat them dry with a paper towel before adding the olive oil and other seasonings.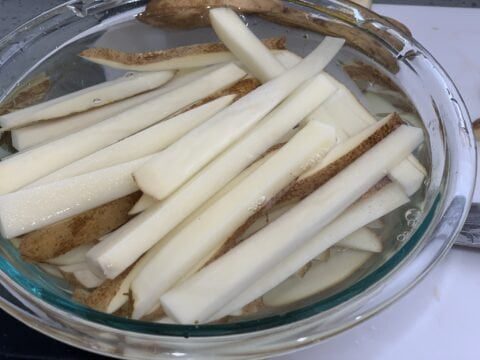 One of the other important parts instead of cooking them properly is to have them taste good. So, you'll want to season them extremely well. I like to season mine with a little bit of garlic powder, onion powder, salt, pepper, and paprika. You can even make Old Bay Fries if you'd like. Just get some Old Bay seasoning and season them with that before they go into the oven. Just, be sure to pair them with a crab cake sandwich! The olive oil is what helps the seasoning to stick onto the fries. I have not made them in the oven without oil. It has always worked best for me with 2 tablespoons of olive oil for four large potatoes. For this recipe, I chose to use Russet potatoes. That is what I usually have on hand. Yukon gold potatoes are a great option and they also give you a wonderful taste and texture for fries.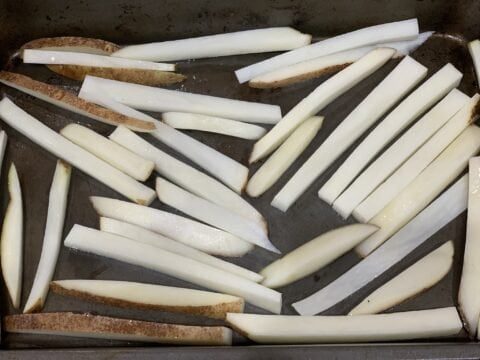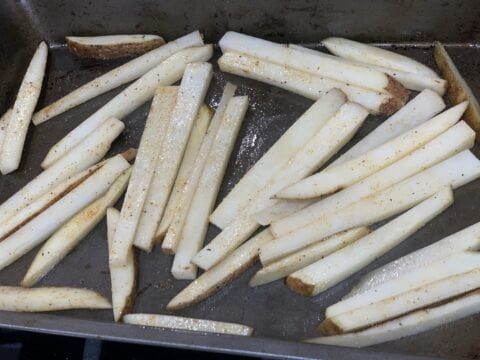 The seasoning blend I use is perfect! Some grocery stores sell something called French Fry seasoning. So, if you don't have the required seasonings listed, you can always buy that! You can even use burger seasoning. Use whatever tastes the best to you.
I recommend that you first pour the olive oil down on the baking sheet. Then pour on the cut potatoes and top everything with seasoning. Use your hands to get the seasoning evenly distributed. This method helps to give you a nice even layer of oil and seasoning on every single fry. Then, they're ready to go into the oven.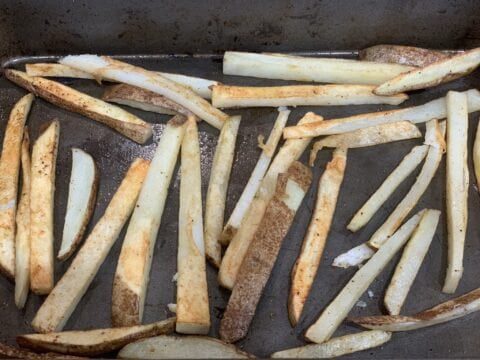 Bake the fries for 15 minutes at 400°F. Then, take them out, flip them all over to their other side, and bake again on the other side for another 15 minutes. Take them out of the oven. Then, pair them with your favorite dish or eat them as a snack. Enjoy!