Dish Description
All the foodies I have met want to know how to make the best tasting spaghetti. What I always tell them is it's all about the sauce. How you season your meat and sauce mixture will greatly affect the taste of your meal. Season it well, and you won't even have to do anything to the pasta! Just boil that in some water with a pinch of salt and a little olive oil and there you have it!
For this spaghetti recipe, I used organic ground beef, 85 percent lean, 15 percent fat. I bought it from my local market. I love including onion and bell peppers. Feel free to use different color bell peppers as it would add a nice visual appeal to your meal. Plus, the flavors of each pepper taste different and add to the finished product as well.
Serves: 4
Cook: 15
Prep: 15
Ingredients
1 package spaghetti pasta, cooked according to package instructions
2 tablespoons olive oil
16 oz ground beef (I used 85% lean/15% fat)
1 tablespoon garlic powder
1 tablespoon onion powder
2 tablespoons Italian seasoning
salt and pepper, to taste
½ small yellow onion, diced
½ green bell pepper, diced
½ red bell pepper, diced
28 oz red spaghetti sauce
2 teaspoons granulated sugar (optional)
¼ cup water
Directions
To a large skillet, heat 2 tablespoons of olive oil over medium-high heat. Break up and brown the ground beef.
Next, add in your seasonings: garlic powder, onion powder, Italian seasoning, salt, and pepper to taste.
Add the diced onion and bell peppers and season with more salt and pepper, to taste. Cook for about 3 minutes, stirring frequently.
Now, add in your 28 oz. jar of red sauce and stir. Add water to loosen it up and granulated sugar if you wish for added sweetness.
Remove from the heat and Serve the meat sauce over already cooked spaghetti pasta and Enjoy!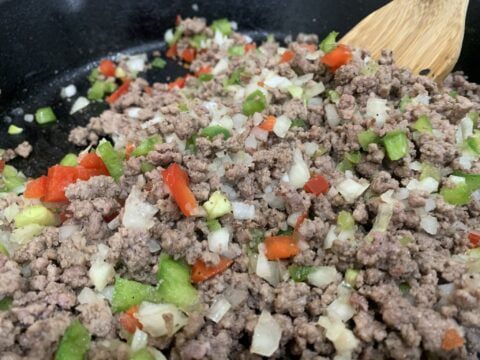 Once all your meat, veggies, and seasonings are added your kitchen will start to smell like an Italian restaurant! Don't be afraid to taste test along the way to make sure your meat sauce is just how you want it! If you're looking for what to pair this meal with, try some garlic bread and a side salad. My family loves this combination and it's very easy to put together. Here's a little bit of advice: when making a salad drizzle only a little bit of dressing on there. A little bit of dressing goes a long way and makes for a better-tasting salad.
I remember eating spaghetti as a child around the dinner table with my family. It was one of my sister's favorite meals to eat and we had it a lot. But, over the years, I have learned to perfect this recipe to how I like it. Adding in a variety of seasonings really does the trick and finely chopping your veggies means you won't work as hard to chew when you're enjoying your meal. If you have some parsley and basil on hand add that in your meat sauce as well. Garnish the dish with some of your favorite herbs before serving for an extra visual appeal.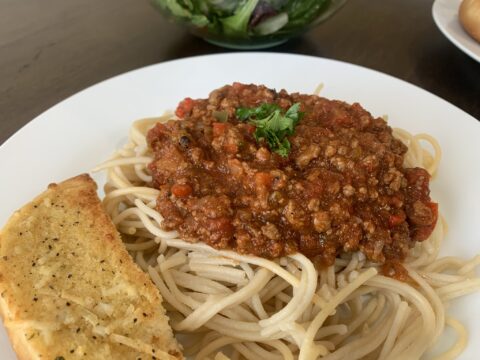 This recipe makes for a great choice of dinner to take over to your neighbors for example or if you're hosting one night, cook this up! Your guests will leave full, satisfied, and longing for more! Let them leave with leftovers if you have any! If you heat this up on the stovetop the next day, add a couple of tablespoons of water to the pan and stir to coat everything so it gets nice and moist. You can always heat it in the microwave too.
Some advice: this recipe calls for a little bit more cleanup than usual, especially if you're pairing it with garlic bread and a side salad. Try to wash utensils and clean plates along the way if you can. Trust me, you'll be too stuffed after eating to even think about washing dishes!
I have mentioned before that a trip I would love to take is Italy! I can see myself having sit-down conversations with chefs and restaurant owners there about how they perfect their own spaghetti recipes, and learning from them. (Guess I'll have to get started on learning some Italian)! Until next time! Ciao!